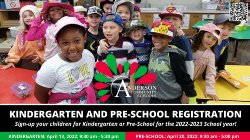 What

2022-2023 Pre-School Registration

When

4/20/2022, 9:30 AM

–

5:00 PM

Where

Southview Preschool Center, 4500 Main Street, Anderson, Indiana 46013
The Anderson Community School Corporation (ACSC) has announced the date for Pre-School registration for the 2022-2023 school year.

To be eligible, students must be age 4 by August 1, 2022.

Please bring with you the following items for the child you wish to register: Birth Certificate, Address Verification, and Vaccination Records.

For questions please call Pam Storm at (765) 641-2160.